EVE OF DARKNESS: Toronto Metal in the 1980s DIEHARD EDITION
$

64.99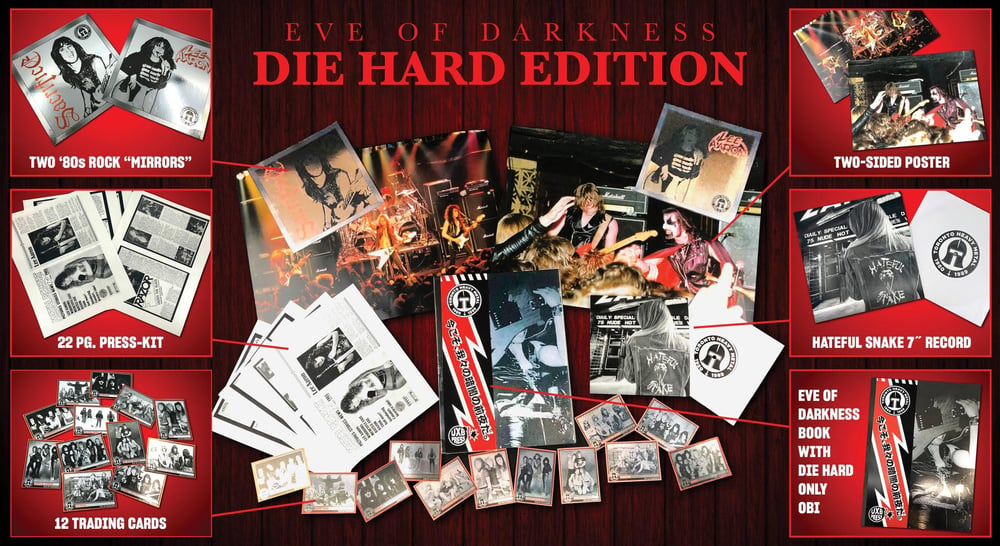 The definitive account of Toronto's heavy metal scene, 1980 – 1989. Over 300 large format pages crammed full of photos, anecdotes, flyers, commentary, and more, lavishly produced and designed. An essential grip for anyone interested in metal, underground music, subculture, and Toronto's unwritten history!
The DIE HARD package includes:
• Limited Edition 'Are You Ready' 7" Single - Hateful Snake (1984 original recording) / Danko Jones All-Stars (30th anniversary revisit - including members of Sacrifice, Sye, Diemonds, etc..) – both tracks never before released on vinyl
• Double Sided 14" x 20" Full Colour Poster - Metallica (Concert Hall, January 1985) + Mercyful Fate (Larry's Hideaway, November 1984) note: poster ships folded to 7x10 with book
• Set of 12 Toronto Heavy Metal trading cards featuring Apple Viper, Banshee, Black Mass, Dark Legion, Death Militia, Herrenvolk, Izod, Kraken, Overlord, Razor, Slaughter and Sye
• 24-page zine of articles & reviews offering a peek at how Toronto's metal merchants were viewed in real time by critics and journalists from around the world. Undistorted by the passage of time, these pages reveal an enthusiasm as penned by those whose sole motive was to seek out and promote the greatest new bands that the world needed to hear.
• Two 8" x 8" Rock "Mirrors" (Lee Aaron, Sacrifice)
• Metallic Silver Foil Bookmark (Anvil)
• Limited Edition OBI Strip
This deluxe edition is strictly limited and it's also the only way to guarantee yourself a copy of the limited Hateful Snake/Danko Jones split 7" record and the bonus materia!
This site is for Canadian orders only - please visit htpp://uxbpress.bigcartel.com for US and international orders.